Our Segments
---
7000+ Segments
to Hyper Target Individuals
With thousands of target audience data segments to choose from, brands and advertisers can hyper target high value audiences by B2B segments, on-target demographics, purchase intent from transaction data spending, mobile app interests, and much more:
The Professional
---
High Financial Literacy
---
Household Income $160k+
---
Frequent Business Traveller
---
Intent to Purchase Property
---
Credit Risk Insight – Low Risk
The Urban Dweller
---
High Spender in Women's Clothing
---
Frequent Buyer in Meal Delivery
---
Frequent Retail Shopping
---
Stays at Economy Hotels
---
The
Gamer
---
Car Enthusiast
---
Tech Savvy Consumer
---
Heavy Mobile Gamer
---
Top Spender in Vegan Dining
---
The Wellness Warrior
---
Subscribe to Health Apps
---
Frequent Leisure Traveller
---
Natural Cosmetics User
---
Aspiring Chef
---
Superior Data, Superior Results
of Your Best Customers
---
Capture the holy grail of the right person, right message, right place, and right time with AlikeAudience. By collecting signals from billions of mobile devices and anonymous purchase records to create high value audience segments, marketers can execute accurate audience targeting campaigns at scale. The result: massive reach and engagement, better ROI.
Accurately Predict Purchase Intent
with Transaction Data Targeting
---
Reach audiences anywhere who spend more than market average across a wide range of products and services. By matching exclusive credit card data with mobile signals such as location data, AlikeAudience offers marketers a powerful transaction data marketing strategy to skyrocket customer conversions.
Perfect Targeting
with Custom Audience Segments
---
Reach and target the perfect prospect with built-for-you custom audience segments. Whether you are targeting professional mountaineers in their 30s or frequent shoppers of specialized products, AlikeAudience has thousands of attributes from mobile and credit card data to hyper target niche audiences for high ROI campaigns.
*Up to 90% of Age & Gender, tested and validated by Nielsen Digital & Ratings(DAR)
Privacy
First
Privacy First is how we built AlikeAudience. Our business is based on privacy models to prepare for the future of Big Data. This means that we work only with trusted data partners and consumer-consented data that are fully compliant with GDPR and CCPA regulations.
Our data is not only in line with leading regulations, but also used for the sole purpose of relevant advertising and analytics. When it comes to generating data, AlikeAudience is uncompromising in our standards and processes to protect consumer privacy.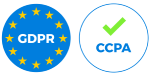 Differential Privacy
We execute the most rigorous privacy standards to ensure zero possibility of any individual being identified from aggregate data.
No Personally identifiable information (PII)s
No PIIs are processed at any time through our data models and methodology.
End-to-End Encryption
Our data storage and processing facilities use industry-trusted services from AWS.









---
Drive Better
Business Results Now
We have the expertise, science, and results to help your team stop guessing — and start making smart, data-driven decisions.